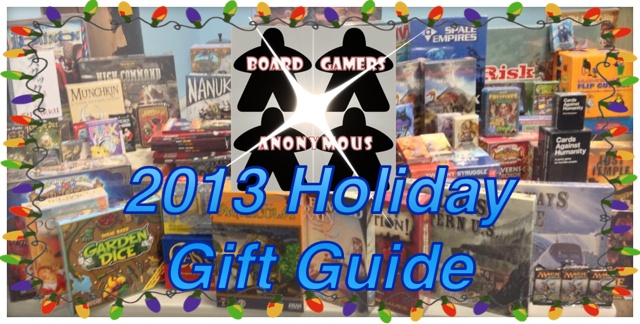 It's that time of year again, and whether you are looking for a gift for the gamer in your life or are a gamer and want a solid gift that the teen, girlfriend, or friend in your life will enjoy, it's time to go shopping. With hundreds of board and card games released every year, we know how hard it can be to narrow down your list to just a few, so to make your life easier and to ensure you get the perfect gift from your friendly local game store, Board Gamers Anonymous has done the heavy lifting for you.
We've compiled a list of more than 50 top games released in the last two years for your holiday shopping list. From the best fantasy-themed games for your Game of Thrones living cousin to perfect family-friendly games to get your children into the hobby.
To make browsing easier, we've sorted everything into categories below. Click on any category to see all our holiday picks for this year, along with links to reviews if we've covered it and where to buy the game if you're ordering online. Enjoy!
If you haven't yet, make sure to check out Board Gamers Anonymous on iTunes. Our weekly podcast covers many of the hottest new games released every month by top publishers like Fantasy Flight Games, Z-Man Games, Asmodee, and more. Check back every week to see what we're playing and between now and Christmas, see what new games are hitting our shelves.
Happy Holidays!