The below is a written review for Between Two Cities, the new Kickstarter project from Stonemaier Games. You can listen to our audio review on Episode 59 of the podcast here. 
Jamey at Stonemaier Games was awesome enough to send us an advance copy of Between Two Cities a few weeks ago. As a backer of two of their previous Kickstarter campaigns and an admirer of the sheer quality of components and execution in everything they've produced to date, I was excited to get this one to the table, and for good reason, because what this game does is impressive.
Between Two Cities has a number of very familiar game mechanics. So familiar in fact that the Kickstarter page openly admits the resemblance in the opening paragraphs. This is a tile-drafting tableau-builder that is impossible not to compare to games like 7 Wonders, Alhambra, and Among the Stars. That said, it implements these familiar mechanics in a unique way that greatly improves on one of the significant weaknesses of those games – the lack of interactivity.
How the Game Plays
In this game, each player will be working towards development of two cities (get it!) – one with their neighbor to the left and one with their neighbor to the right. Over the course of three rounds, you will draft a certain number of tiles, select two at a time, and pass them to the next player. All players will simultaneously reveal two tiles and then the real fun begins.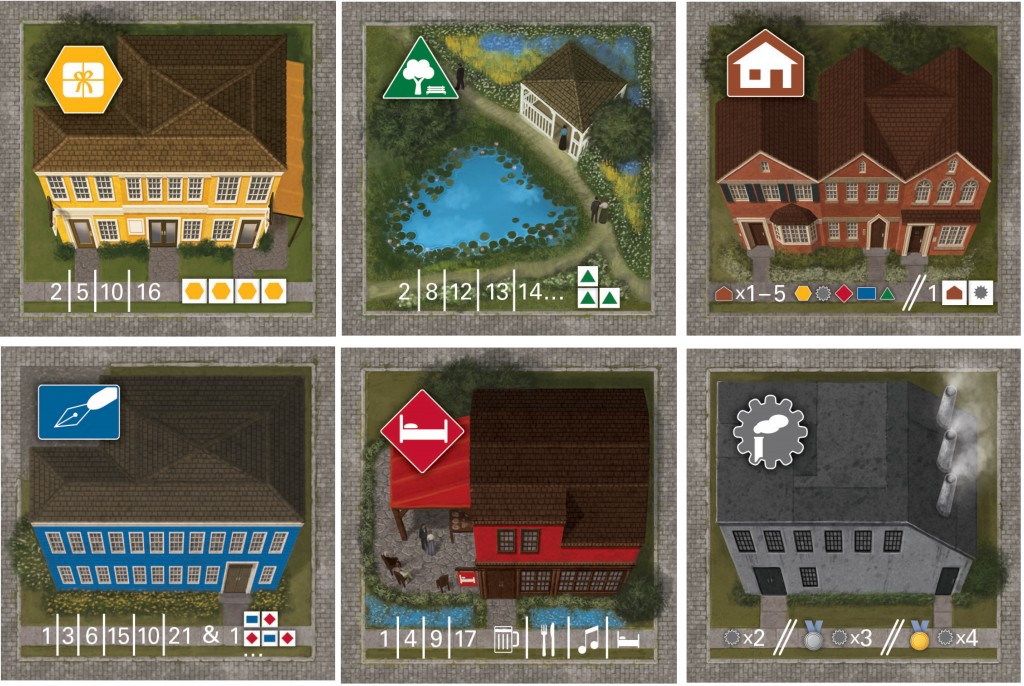 This is the point in most tableau building games at which you would drop your tile or card in front of you and immediately start contemplating the next play. In Between Two Cities, you must discuss with both other players how these tiles will be played.
Because you share those two cities and because it matters what they do and vice versa for your scoring, there will be much wheeling and dealing. This fundamentally alters the dynamic of the mechanic in a very fun way. In our first play, we bickered, haggled, and laughed about where tiles should and would be placed. In the end, someone often got the short end of the stick, but no one took it personally – after all, it's every player for themselves.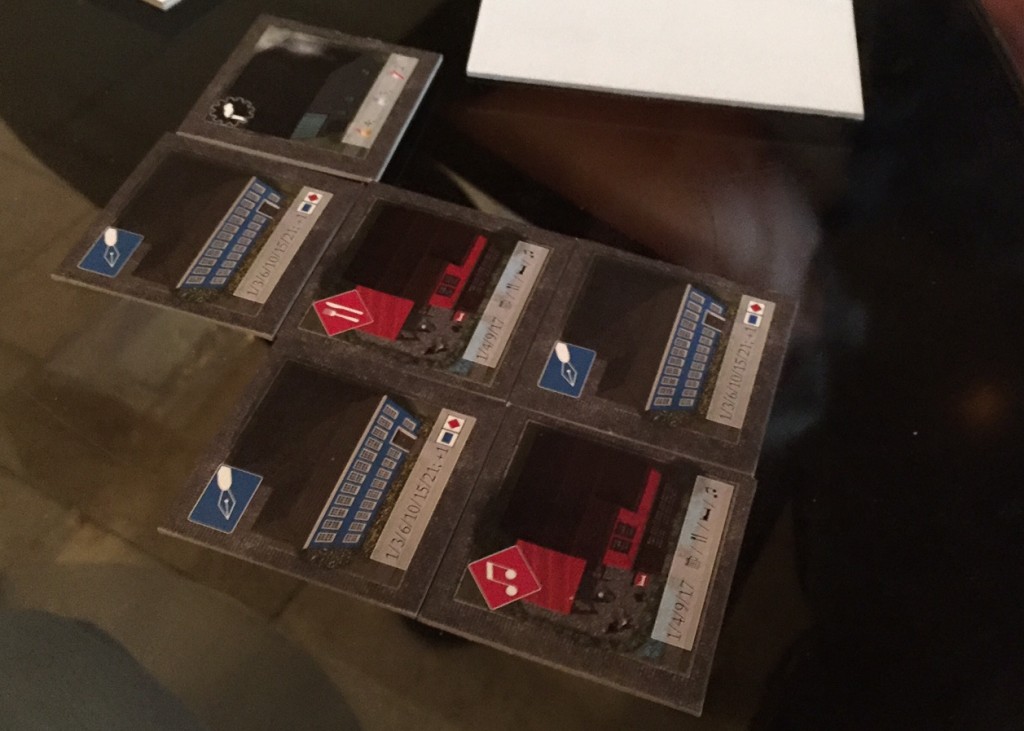 Between Two Cities manages to create a true semi-cooperative experience that allows for development and collaboration of strategy, but in the end requires you to outthink and out play your opponents. At the end of the game, all cities are scored, but only your lowest scoring city counts.
So you can't just ramp up one city with all your best tiles and hope to outdo your opponents. You need BOTH cities to do well and for your opponents to do worse, all factors you can subtly control based on which tiles you play, which you pass, and how you discuss the layout of your cities.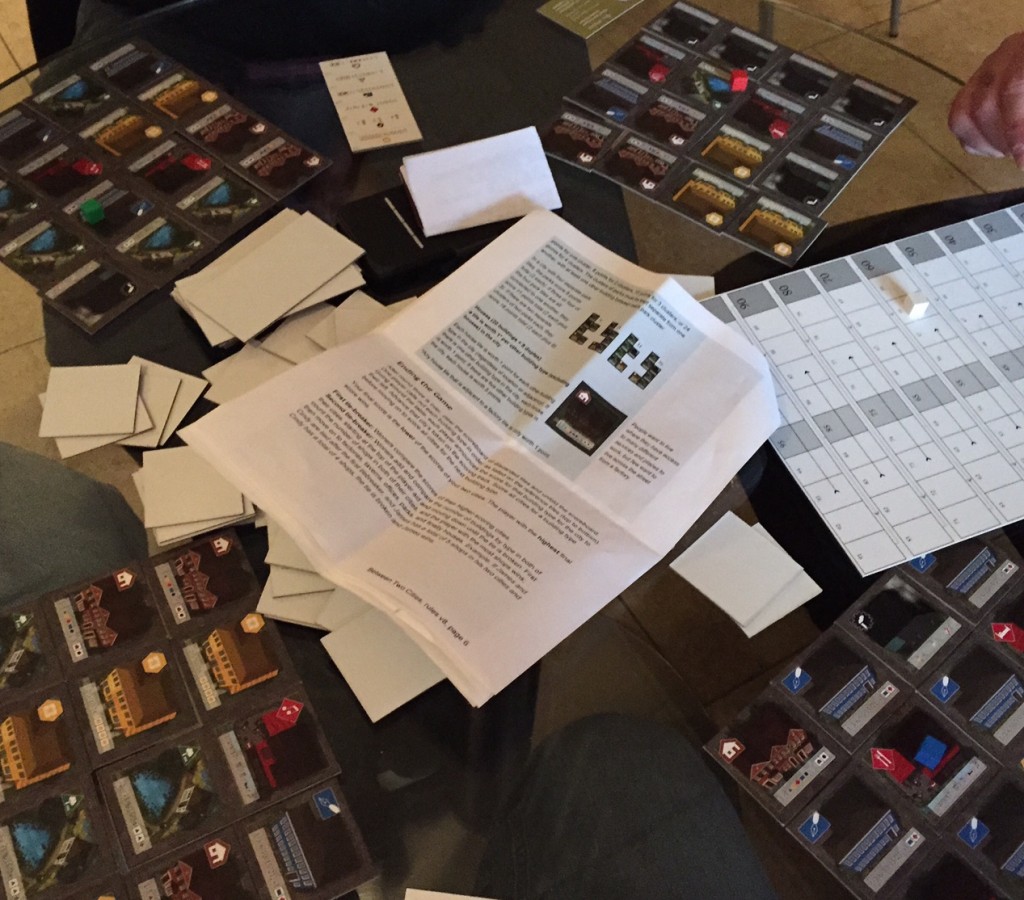 Finally, there's the accessibility factor. The game plays 3-7 players using the default rules. But there's also a two player variant that doesn't require a "bot" player, and as part of the Kickstarter, there will be a single player automata variant. Better yet, as long as one or two people at the table know how to play the game, it's easy to onboard new players. Because everyone is paired with two other players to build their city, it's self-teaching – setup and rules walkthrough take all of five minutes and the game itself takes only 20-25.
Our Verdict on Between Two Cities
Between Two Cities is both familiar and somehow fresh in its execution of a very popular game mechanic. By essentially solving one of the biggest weak points of card drafting, tableau builders like 7 Wonders and Among the Stars, this game instantly becomes a perfect fit for game night – creating a truly social experience in a highly repayable package.
The Kickstarter campaign goes live today with two backing levels. There is a $29 Standard edition and a $39 Special edition that comes with a special box and additional wooden tokens for tracking your city and score.
This is an easy recommendation for us. Every moment of this game was fun and even after we had a good feel for it, we played multiple times. If you haven't yet, check this one out and back it. We certainly will.
SUMMARY & RESULTS
Between Two Cities is a tightly designed take on card drafting and tableau building that gets everyone in the table involved. This is a quick, fun game worth backing.